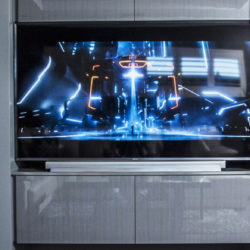 With the holiday season coming up in only a matter of weeks, it is time to start planning for your holiday celebrations.
If you are the designated host for this year's get together, and you are expecting the usual family members and friends with those moaning kids who are always bored, why not set yourself up with a great theatre room where they can be entertained away from the boring adults.
With a smart theatre room, you can easily entertain the kids with movies or video games in one room while the adults can talk or listen to music in another area.
With fixed glass wall panels or clear glass doors, the adults are able to keep an eye on the little darlings without opening the door and disturbing them.
This also works well with teens who want to listen to music that does not appeal to the adults.
With a modern, clever home theatre setup you can have happy teens and adult guests in your home at the same time, all enjoying the festivities.
It does not matter whether you have a modest or a large home, a custom designed theatre room will enhance your home and provide you with many practical options when it comes to home entertaining.
Flexi Home Theatres Perth
The secret to the perfect home theatre is the furniture. The furniture needs to serve the purpose it was designed for, not just be somewhere to put family photographs.
If you are looking for a piece of beautifully functional furniture to complement the existing décor in your living areas, look no further than Flexi.
Flexi can custom design, make to measure and fully install entertainment units, tv cabinets, buffets, side table, entry tables and much more.
The team at Flexi can increase your storage space in your TV room without compromising the overall look and feel of your home.
Flexi furniture designers have devised a way to install your occasional furniture with as little disruption to your day and productivity as possible in three easy steps.
Contact the team today on (08) 9301 4200 and make an appointment for your free in home consultation.
Meet with one of our designers in the comfort of your own house and discuss innovative ideas that will inspire you.
Confirm your gorgeous new theatre room furniture design and book a day for installation.
It really is that straight forward to have a beautifully functional entertainment unit and occasional furniture created just for you.
You will really be looking forward to hosting your guests this holiday season.
October 25, 2018