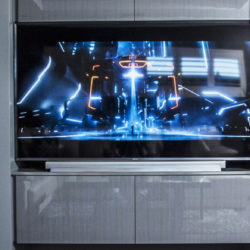 Entertaining at home has now gone to a new level with the latest technology giving us huge wide screens and sound systems to rival the local cinemas, there is no need to go out to see a movie on the big screen while eating overpriced popcorn.
Just imagine your family enjoying a movie night at home, without some person with the biggest hair sitting in front of you, or the kid behind you kicking the back of your seat.
Sounds great doesn't it, and so easily done.
No Need To Leave Home, Flexi Come To You
The team at Flexi can come to your home and have a look at the space which you have to create a home theatre.
You may have a big separate room where you can go over the top with built in bars, semi circular leather lounge theatre suite with recliners, all walls and ceiling painted in a very dark colour with dark curtains to cover the windows, and tiny little lights in the ceiling for added effect.
What a great feature in any home, your very own Hollywood style, private movie theatre.
Then again, you may prefer to have a custom designed, built in entertainment unit to fit a recess which you already have in your family room. Flexi are the specialists when it comes to custom building storage furniture to fit perfectly into any space.
You will be impressed with the innovative ideas that the experienced designers will be able to offer you, with clever design and smart use of space, a small area can accommodate a full home entertainment system without the clutter of extension cords running across the floor.
Flexi Home Theatre's custom design cabinetry will transform an ordinary home entertaining area into an awesome, yet practical entertaining space.
Whether it's installing cabinets for a home bar, wine cellar or home theatre, Flexi delivery high quality custom made entertainment units on time and on budget.

Easy As 1, 2, 3
It really is that simple, in just three quick steps Flexi can have your awesome entertainment furniture installed.
Contact the team at Flexi today on (08) 9301 4200 and make an appointment
Meet with one of their experienced designers in the comfort of your own home
Watch your design ideas come to life before your eyes and then confirm the design and book a day for installation.
Contact the team today and let them create the entertainment area you deserve with the best home theatre in Perth.
December 19, 2018