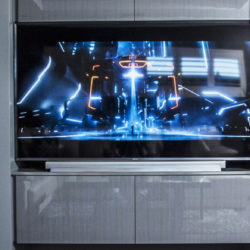 You can easily amuse your bored kids this summer with multi purpose home theatres.
When the summer heat is just too hot for them to be outside in the pool, cool the gang down by setting them up in your home theatre, with cool drinks and fruit kebabs.
This is a great way to entertain them, as well as giving yourself some peace and quiet.
You do not need to have a grand, Hollywood movie star style setup, the kids will be just a happy sitting in front of your tv entertainment unit with a big screen TV and awesome audio.
You can easily have all your entertainment media, organised in a manner that is easy to use, convenient and attractive.
Nothing looks messier than power cords with piggy back double adaptors and extension cords running across the floor.
Safety First With Flexi Home Theatres In Perth
There is no doubt about it, having a custom designed home theatre and entertainment unit, will keep everything together in a very organised manner, but more importantly than that, a custom designed home theatre system is a smart option when it comes to the safety of your family.
Children have been badly hurt by climbing onto furniture and pulling TVs onto themselves, trailing extension cords are an obvious tripping hazard and removing cords from devices that are not switched off is also dangerous.
With a custom built home theatre system from Flexi in Perth, your system will be designed to meet your personal needs.
The team from Flexi will design the perfect entertainment system for you, incorporating all of your media, TV, DVDs, Blu Rays, Consoles etc.

Lockable Storage For Adults Only
Another sensible idea for your indoor entertaining, is to have a relaxing bar area for mum and dad.
As a safety precaution, lockable cabinets will protect small children from consuming alcoholic beverages, and of course the older kids or free loading guests, will be encouraged to buy their own.
A custom built bar in your entertaining room will really add the wow factor, when you have your friends over for a quiet night in, or for a noisy afternoon when the boys are watching the big game.
Having a specific area in your home for the entertainment needs of the whole family, will enhance your lifestyle and add value to your home.
Professional, high quality custom made home theatres, TV and entertainment units, bar and wine cellars, and more, delivered on time and on budget. Contact Flexi today and let them create the home theatre and entertaining area you deserve with the best designers in Perth.
January 10, 2019