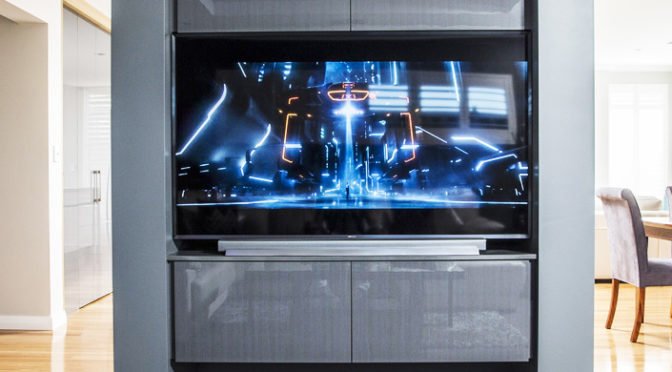 Home Theatres in Perth are now the "Must Have " for all new home designs, however for those of us who do not want to move from our much loved homes, the easy solution to creating a fabulous, up to date theatre room, is to contact the team at Flexi.
Flexi Home Theatre designs transform your entertainment area into a luxurious home theatre that provides the ultimate cinematic experience, including:
Beautifully designed and crafted practical TV and entertainment units
Quality bar and wine cellars
Innovative and beautifully functional cabinetry design
Premium quality, craftsmanship, service and delivery
Hidden cords
The standout feature that needs to be addressed in a smart theatre room design, is where to house the TV and sound system without the need for endless cords snaking their way across the floor. Not only is this an eyesore but it is a tripping hazard as well.
If you want to make setting up a "State of the Art", theatre room in your home, call the team at Flexi and arrange a free home visit where you can discuss your needed in the very area that is to become your new theatre room.
Let the design team blow you away with awesome designs and clever storage ideas, that will meet your own personal ideas and storage needs.
You will be impressed with how quickly the transformation can take, with little inconvenience to your daily routine.
A Flexi Home Theatre is the perfect way to update your home while adding considerable value to your property.
Things To Consider When Planning Your New Home Theatre
Which is the best room in your home for the home theatre?
The amount of ambient light
Is Carpeting needed?
Is there space in the walls to hide some components?
Type of speakers, in wall or in ceiling?
Cabinetry design
Seating
Type and size of the screen
Internet connections
No visible cords
This may seem daunting and all too hard, however with the guidance and advice from the very experienced experts at Flexi, these are all just part of the planning process and the goal is to create the perfect home theatre for you and your family.
There are many options available, and whatever your needs and ideas are, your expectations will be exceeded. This is what the team at Flexi do, and they do it well!
Contact our team today on (08) 9301 4200 and make an appointment.
September 24, 2018